Testing the battery life of Framework Laptop 13 (13th Gen Intel Core)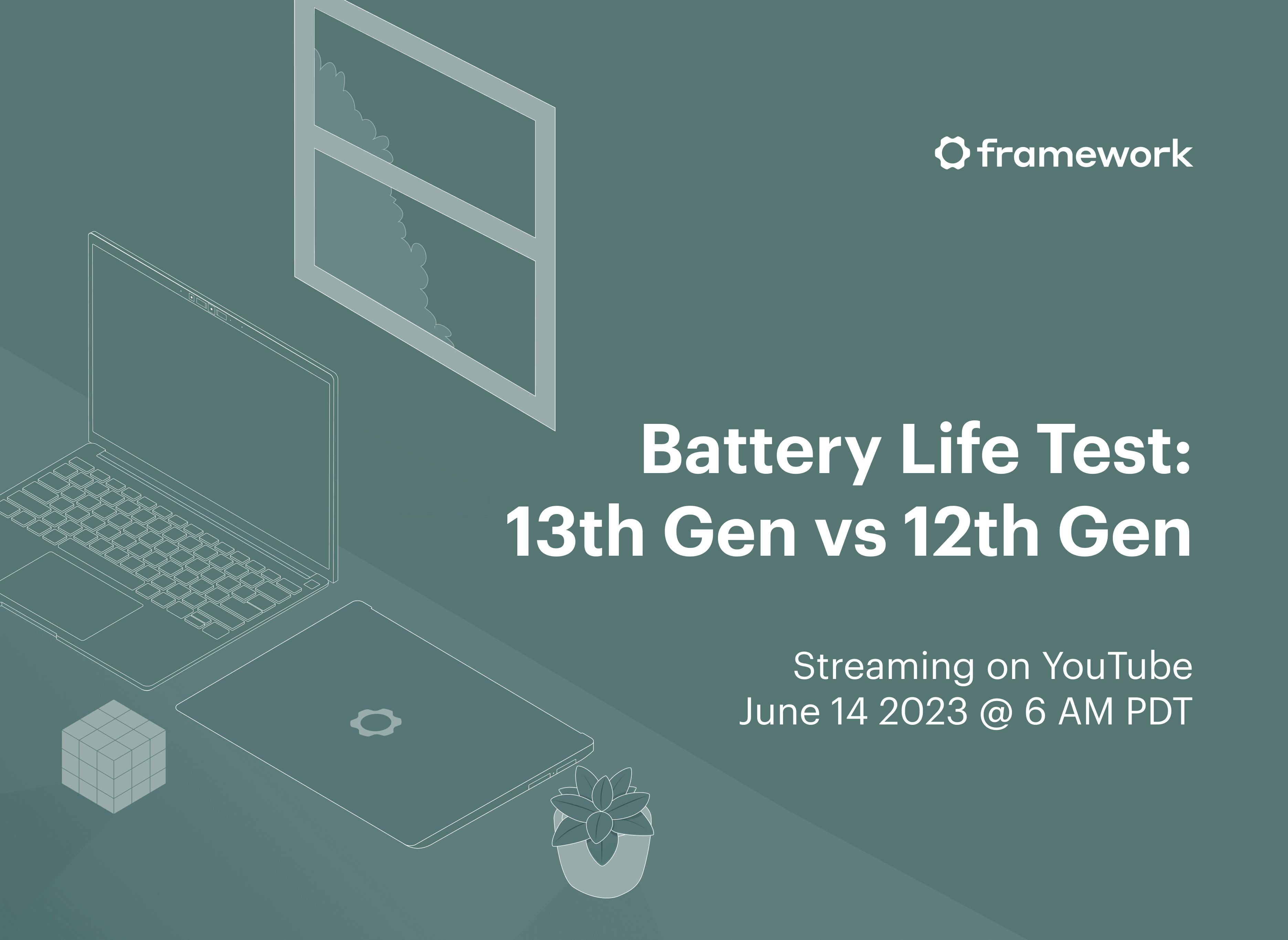 We've made some serious claims around Framework Laptop 13 battery life improvements with the new 13th Gen Intel Core version, so we put the product to the test! We hosted a livestream to test the battery life of the Framework Laptop 13 (13th Gen Intel Core) against the Framework Laptop 13 (12th Gen Intel Core), with Q&As with members of the Framework team happening during the stream as well. In the end, the 12th Gen lasted 9 hours and 51 minutes, while 13th Gen made it to 11 hours and 43 minutes!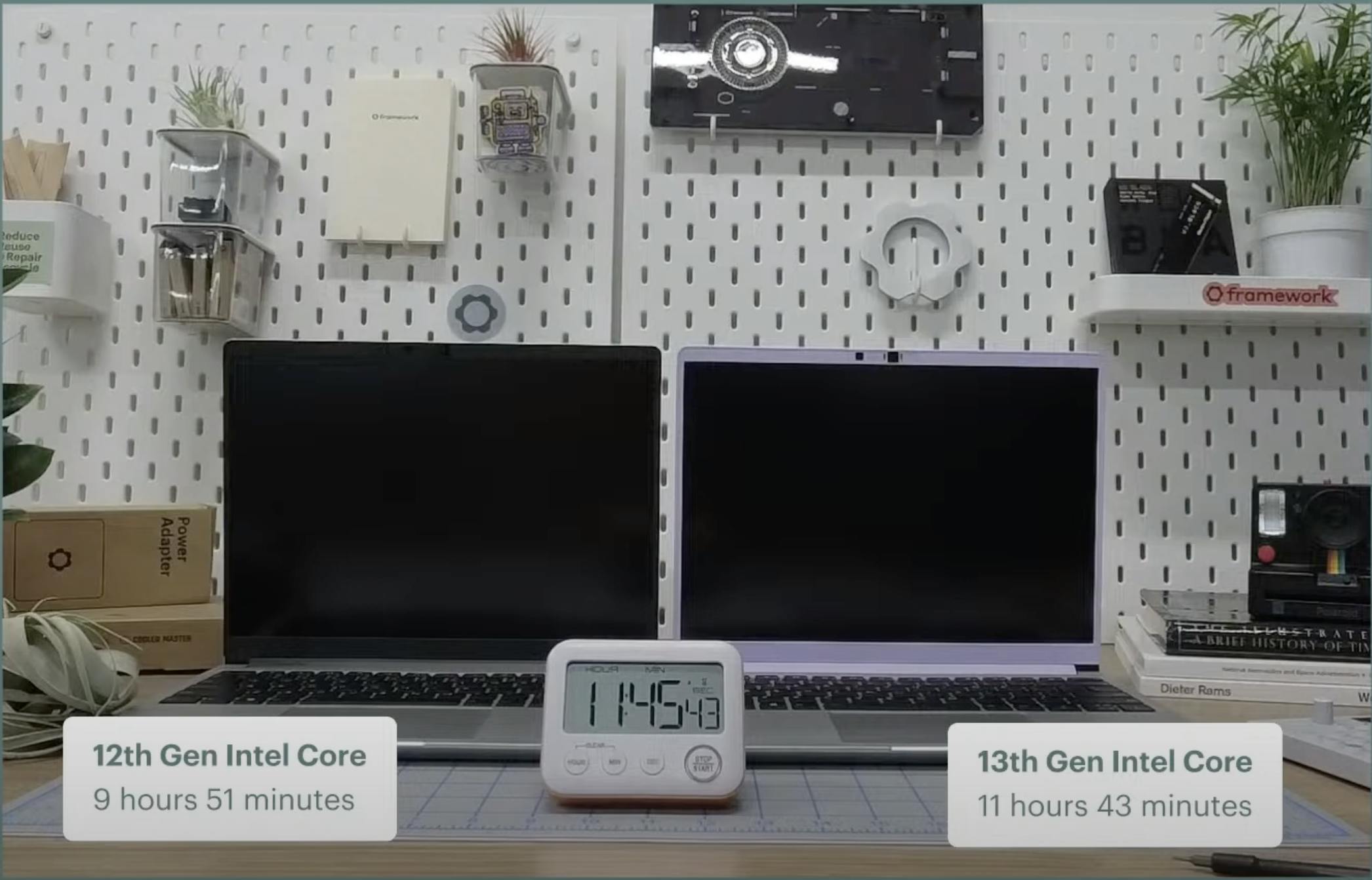 We've also seen reviewers report fantastic battery life results on the 13th Gen Intel Core Framework Laptop. Andrew Cunningham at Ars Technica saw an incredible 40% increase in PCMark battery life test results. Monica Chin at The Verge stated "I'm thrilled to report that I averaged nine hours and 12 minutes of continuous use from this device. That's one of the longest lifespans I've seen from an Intel laptop in... I don't even know how long. A while. It's great." 
The two key factors to the improved battery life with the latest Framework Laptops are the new 61Wh Battery included on i7 configurations, offering 11% greater capacity, and the designed-in efficiency improvements that 13th Gen Intel Core processors deliver.
A key ingredient for power savings: HDMI (3rd Gen) Expansion Card
The final key power saving improvement we made alongside 13th Gen is a modification to HDMI and DisplayPort Expansion Cards to reduce system power consumption when no cable is plugged in. Alongside 13th Gen Batch 1 pre-orders, we released a beta HDMI (2nd Gen) Expansion Card version of this. This beta program proved to be extremely useful, and we were able to identify and resolve some remaining compatibility issues, leading us to launch the final HDMI (3rd Gen) Expansion Card. There are no differences in battery life or performance between the beta 2nd Gen card and the 3rd Gen card; we have only resolved the small number of identified compatibility issues. All remaining 13th Gen pre-orders containing HDMI or DisplayPort Expansion Cards will receive the new HDMI (3rd Gen) Expansion Card or DisplayPort (2nd Gen) Expansion Card versions. These cards also reduce power consumption on 11th Gen and 12th Gen systems, so current Framework Laptop owners looking to upgrade can pick up the HDMI (3rd Gen) Expansion Card and the DisplayPort (2nd Gen) Expansion Card in the Marketplace soon. You can also convert existing Expansion Cards to the new versions with a firmware update for DisplayPort and the combination of firmware and some advanced soldering for HDMI.