Long-lasting laptops that keep up with your organization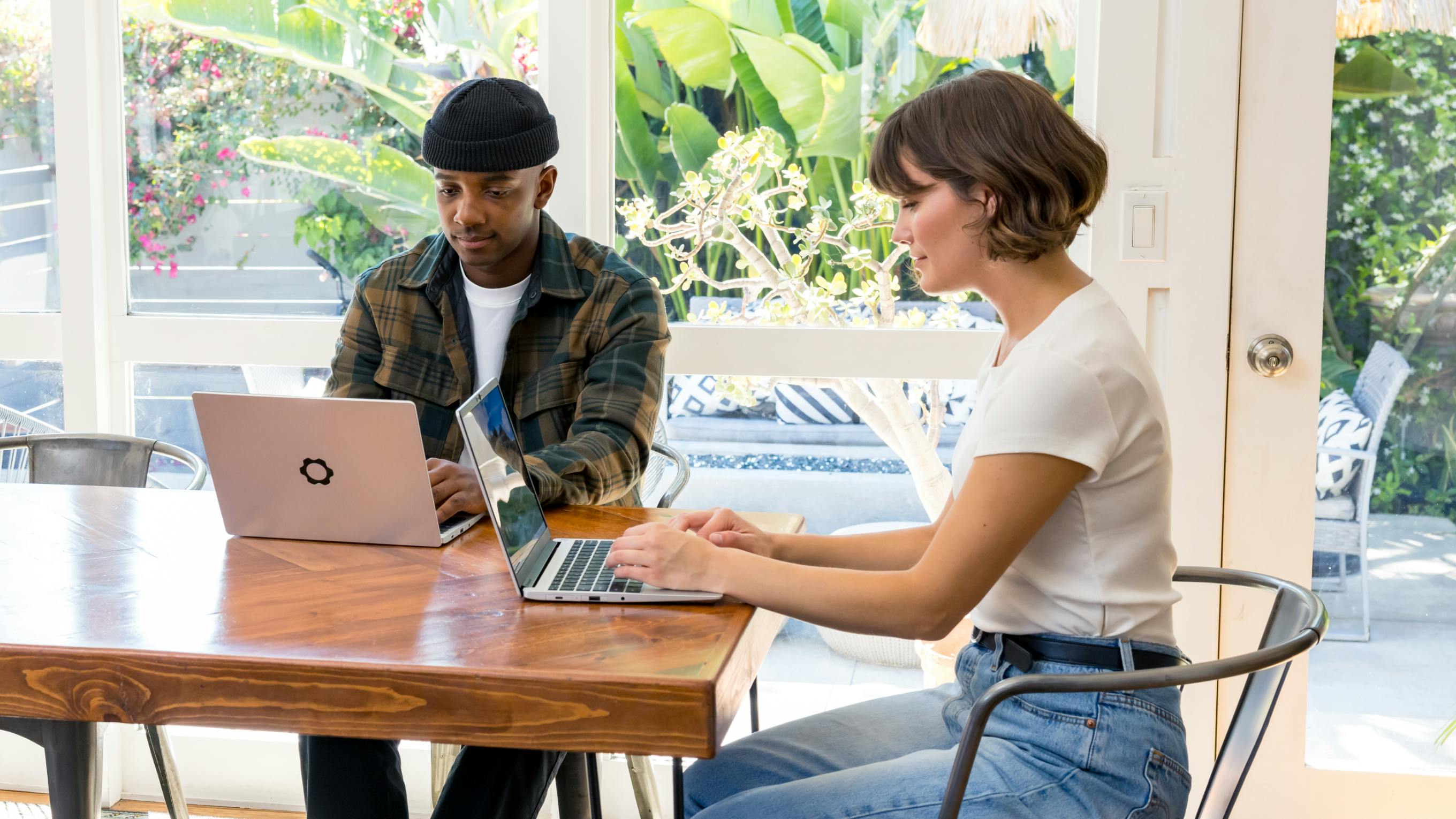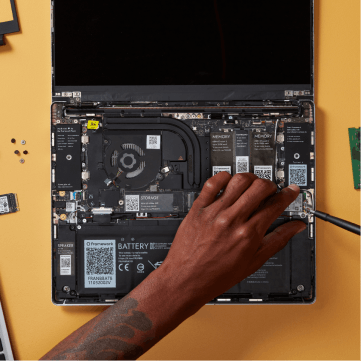 Performance tailored to your needs
Sleek, customizable, and with leading-edge processors, Framework laptops provide high-level performance tailored to your business needs. Enjoy a modern laptop that is as thin and light as the competition, but with unprecedented customizability.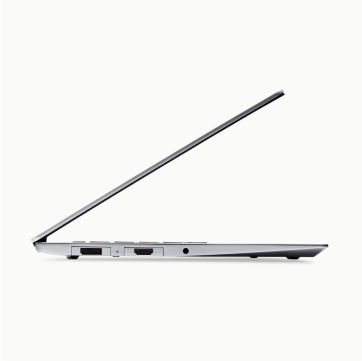 Enabling OS choice
Available pre-loaded with Windows 11 Pro or with no OS, enabling you to bring your company's preferred Linux distribution.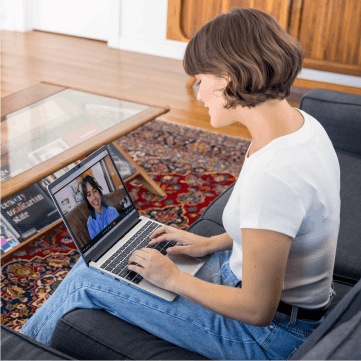 Designed for the future of work
Designed with a high resolution 3:2 screen, excellent keyboard with 1.5mm key travel, and a 1080p webcam with hardware privacy switches, making it great for in-office and remote work.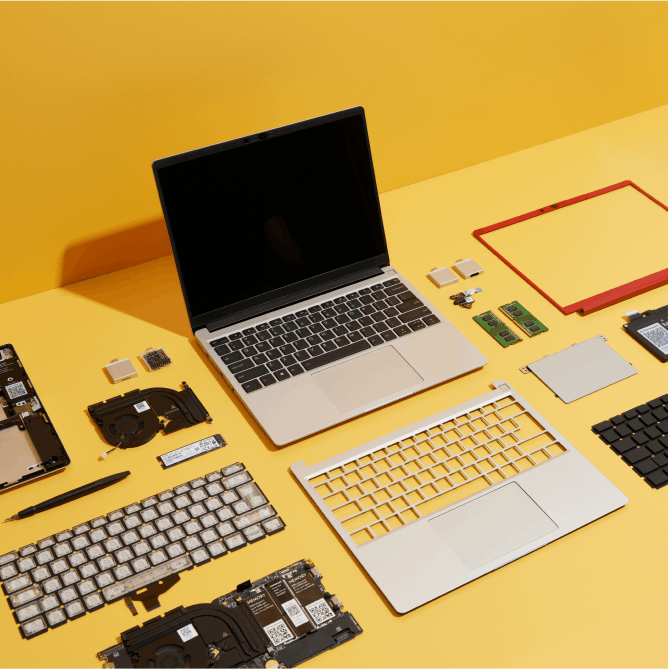 On-site repairs and maintenance made easy
Framework makes maintenance and repair seamless. With easy access to key components like battery, keyboard, display, and ports, your IT team can perform quick, on-site fixes. We also offer long-term parts availability through our Marketplace, unprecedented access to documentation, repair guides, and built-in diagnostics to make maintenance easy for in-house IT or Managed Service Providers. Framework Laptops allow you to reduce downtime.
Explore Framework Laptop options
Framework Laptop 13
The Framework Laptop 13 is a thin (<16mm), light (1.3kg), portable 13.5" notebook that is designed to last. The minimal, refined aluminum chassis is durable and tested to commercial standards. It's a high performance system out of the box with the latest Intel and AMD processors, and can be upgraded whenever needed.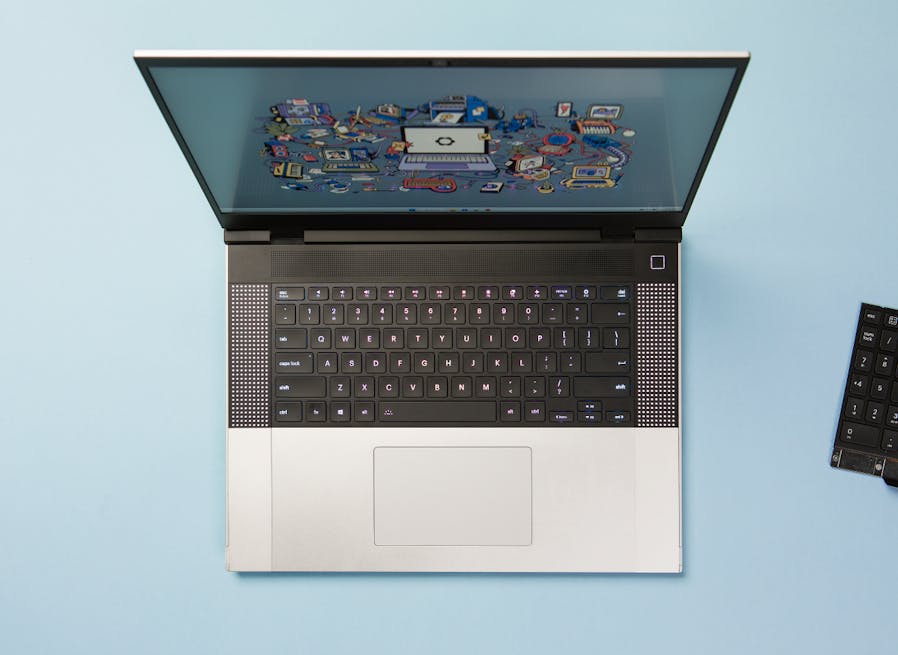 Framework Laptop 16
The Framework Laptop 16 is the ultimate high performance notebook. With modular discrete graphics and a hot swappable input deck, it's customizable and upgradeable in ways that no other laptop enables. It offers power and flexibility of a desktop workstation within a slim magnesium alloy and machined aluminum chassis.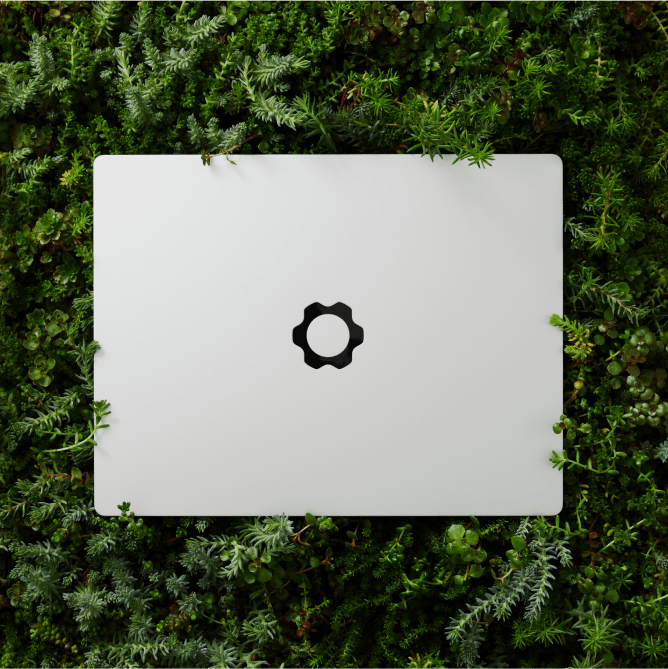 Reduce your environmental impact
The single best way to reduce the environmental impact of electronics products is to use them for longer. Framework Laptops are designed to be easy to repair and upgrade, enabling you to mitigate wear and improve performance and capabilities with module-level replacements rather than swapping full systems. This doesn't just reduce harm, but reduces costs too.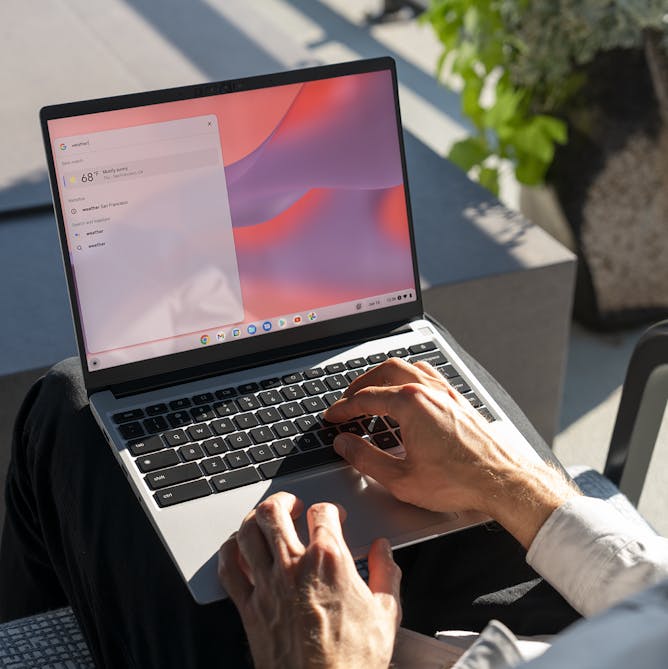 Maximize your IT budget
Framework presents a strategic solution for optimizing IT budgets. The longevity of our devices leads to extended depreciation periods, reducing the spend on new hardware. Framework isn't just a choice for leading-edge laptops; it's a smart decision for financially sustainable IT management.
What others are saying
"I am excited by the work we are doing with Framework, looking to understand how open electronics, with a focus on the "right to repair/upgrade" can be adopted within an enterprise business."
Matthew Bull, Chief Technology Officer - Elanco
"The things we really like about Framework is the ability to mix/match ports to suit employees preferences (we have a box of spare ones, so people can change themselves), good Linux support for developers using it and simple, static, fair pricing"
Chris Padfield, Founder & CEO - Deskpro
"Framework allows us to keep a broader array of memory and ram while keeping stock of a single machine. This allowed us to streamline our inventory process and keep costs down"
Damon Hooker, Service Center Manager - KickTech
"We are very impressed with the build quality and support guides. We especially appreciate having the drivers ready to go out of the box."
Dustin Miller, IT Coordinator - EveryStep Care & Support Services
Connect with the Business team
Frequently asked questions
Ordering & shipping
At the moment, Framework does not provide demo or test laptops. We recommend purchasing one or two laptops as the best way to start the process of evaluating Framework Laptops for your organization.

Yes, Framework supports purchases with purchase orders (POs), however, at this time, we do not offer NET payment terms, so all orders must be pre-paid before shipment by wire transfer or credit card. Please contact our team using the above form or by email at business@frame.work to initiate this process.

Please contact our support team and the invoice for your order will be provided.

For business customers who need to establish Framework as an approved vendor before making a purchase:

Company Name: Framework Computer Inc

Headquarters Address: 447 Sutter St PMB 135 San Francisco, CA, 94108-4618 United States

Purchase Terms: prepaid by Credit Card, ACH or Wire

Primary Contact: Framework Business Team

Primary Contact Email : business@frame.work

Phone Number: 415-475-3769

For additional information, please contact our business team using the above form or by email at business@frame.work.

For US organizations ordering in bulk, we can support tax exemptions. Please send us a tax exempt letter and our service team will update your account. Please make sure you have an account created in our marketplace ahead of your request. 

For organizations located outside of the United States, VAT will be included on the order and must be paid in full. We will provide an invoice with your VAT ID and the relevant Framework VAT ID, however we cannot remove VAT from your invoice at the time of order.

We highly recommend utilizing our marketplace for replacement part orders. If a product is out of stock, please contact business@frame.work for more information on lead times. 
Program & services
We understand Windows Autopilot is widely used among mid-sized and enterprise businesses. Framework does not support Windows Autopilot however we're planning to introduce support soon, along with a wider selection of Prebuilt configurations with Windows 11 Pro pre-installed as we build our Framework for Business program.

If your business would like to run a proof of concept (POC) program with Framework Laptops, we recommend starting with a few DIY Edition Framework Laptops, and we highly recommend reaching out to our business team to discuss your requirements to achieve seamless laptop developments.

At this time, Framework only supports direct sales and does not sell to resellers or distributors.

Currently, Framework offers front-line support for minor issues every day of the week and escalation support for more complex issues on weekdays, Pacific Time from the United States. Typically, the first response time is one business day or less, although it may vary during periods of high volume. To create a support ticket, either use our support form or contact us by email at support@frame.work.

At this time, Framework does not offer any discount programs.

At this time, Framework does not offer any discount programs for volume purchases.
Product
This depends on the needs of the business. Pre-built configurations cannot be customized beyond the listed CPU/Mainboard/SSD/RAM configuration, and only Expansion Cards selection can be made. Pre-built Framework Laptops also include an OEM Microsoft Windows license attached to the mainboard.

If customization of components is required, mainboard upgrades are expected regularly, and either Linux or a Microsoft Windows retail license will be utilized, a DIY Framework Laptop will be a better option.

Framework does not currently offer extended warranties at this time, however, this is something that we are reviewing as a future offering. An official announcement will be made if/when this happens.

Laptops without OS pre-installed are only available via the DIY Edition version.

Pre-built configurations cannot be customized beyond selection of Expansion Cards as the laptops are manufactured and assembled in the noted pre-built configurations from the factory.