Framework Laptop 16 Deep Dive - Memory and Storage
In keeping with Framework's philosophy, the Framework Laptop 16 has socketed memory and storage, making it easy for you to choose what you need on day one and upgrade to more any time later. Our pre-built configurations have set combinations of memory and storage, while on DIY Edition, you can choose any of the modules we offer in the Marketplace or bring your own if you prefer. We've taken both memory and storage to the next level on Framework Laptop 16. For memory, we've created new semi-custom Framework-branded DDR5-5600 modules. For storage, we have two M.2 slots, as well as the ability to add two more in the Expansion Bay for colossal storage capacity.
One core challenge we aimed to solve for memory on the Framework Laptop 16 was being able to offer the same modules for pre-built systems, DIY Edition, and the Framework Marketplace. Historically, we needed to source separate "OEM" modules from Samsung, SK Hynix, and Micron for use in our factory, and "Retail" modules from Crucial to offer in DIY Edition and the Marketplace. Instead, we worked with memory maker ADATA to create custom-label modules that we can use across all areas. Currently, we're leveraging SK Hynix DDR5-5600 memory chips for these modules, but may use other chips that meet the performance bar in the future as well.
When we first visited ADATA's headquarters in Taipei, they offered to give us a tour of their manufacturing line. We assumed they meant we could take a trip out to a factory in the future, but instead, they took us to another floor of the same building and showed us one of the most impressive, compact manufacturing environments we've seen. They have several highly-automated SMT (surface-mount technology) lines pumping out large quantities of memory and storage modules in a normal-looking office tower! Conveniently, this means we're making our custom modules a short distance away from our laptop manufacturing lines that are also in Taiwan, enabling efficient logistics and better control over supply.
Framework Laptop 16 has two DDR5 SO-DIMM sockets. These support up to 32GB each, enabling 64GB of DDR5-5600 memory, and we'll be offering 8GB, 16GB, and 32GB modules. This matches what we have on the Framework Laptop 13 (AMD Ryzen 7040 Series), and we're bringing our new branded memory modules there too.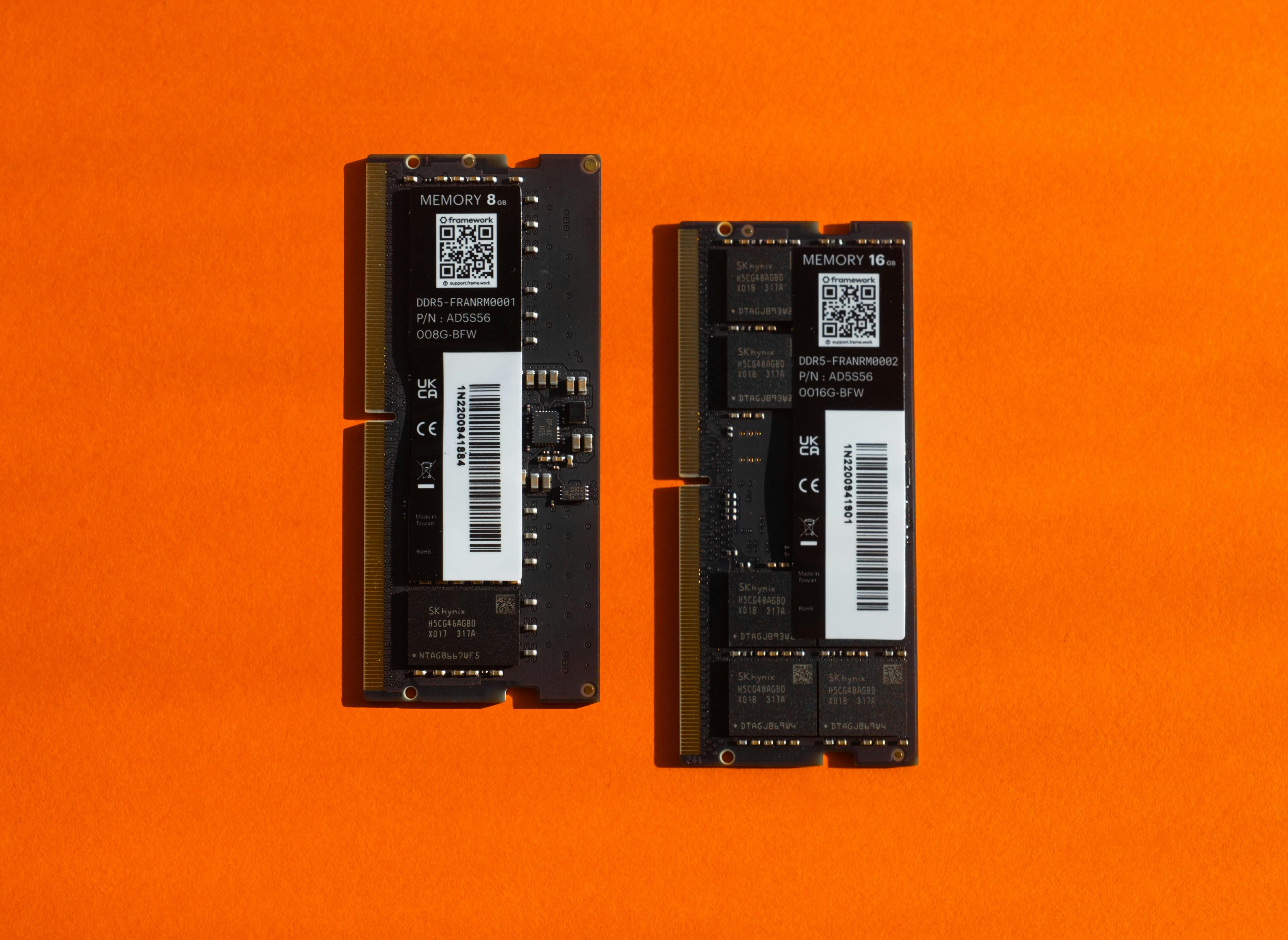 For storage, we've put in two M.2 NVMe PCIe Gen4x4 sockets, one of which is 2280-sized and other 2230-sized. We attempted to fit two 2280 sockets, but with everything else we're doing on the Mainboard, we ran out of space. 2280 modules are available on the market with up to 8TB capacity, while 2230 modules are available up to 2TB. For pre-built Framework Laptop 16s, we use Western Digital's top-end SN810 drives with up to 6,600 MB/s of sequential read performance. For DIY Edition, we'll offer the same options we do on Framework Laptop 13 for the primary 2280 storage: WD_BLACK SN770 and SN850X drives in up to 4TB capacity, with up to 7,300 MB/s of sequential read throughput. For the secondary 2230 storage, we offer Western Digital's SN740 drives in up to 2TB. When we first started offering 2TB 2230 modules last year in the Framework Marketplace for Steam Deck owners, this was secretly also a way for us to start sourcing those modules for Framework Laptop 16!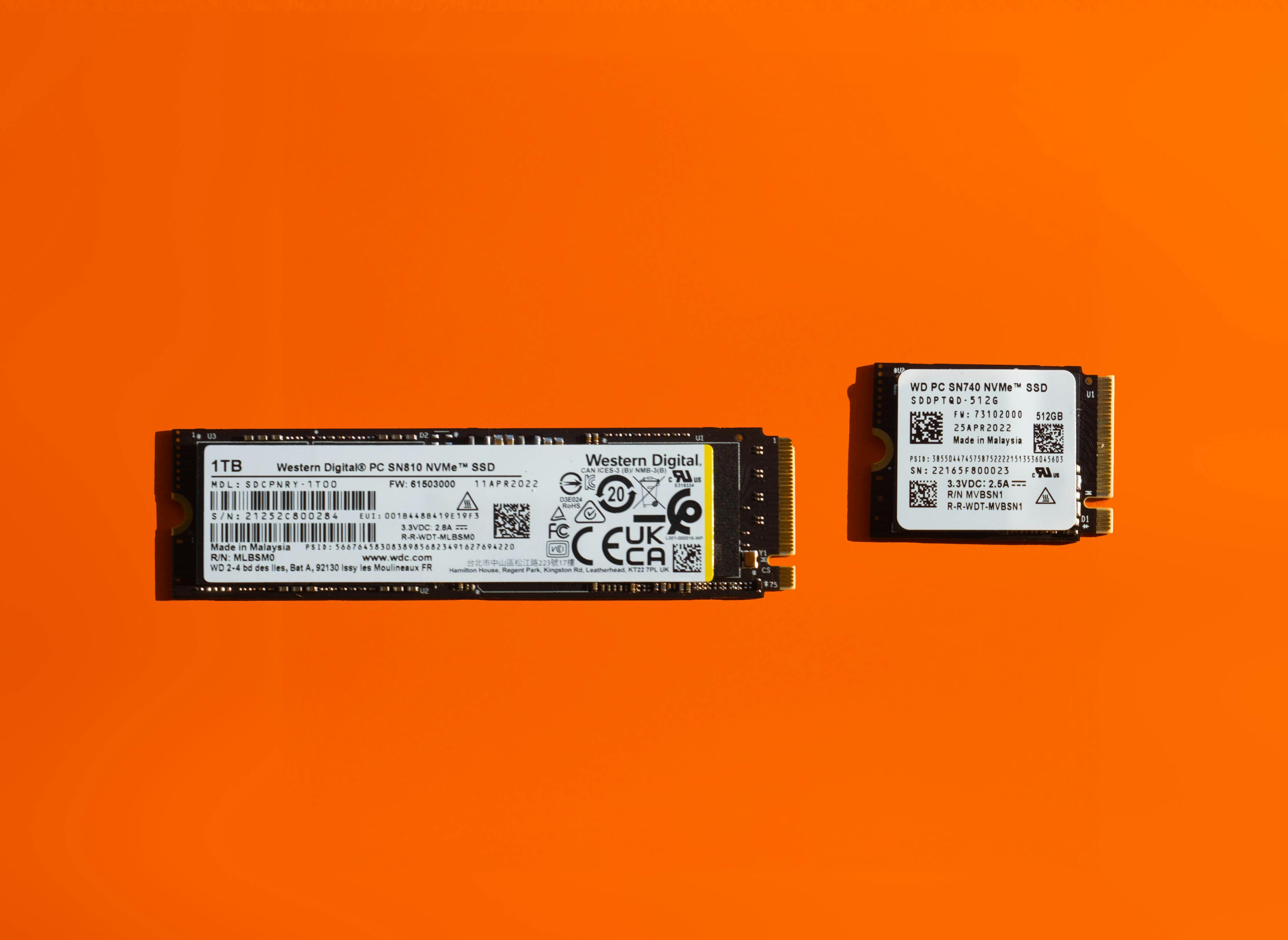 If you need more storage than you can fit in those two M.2 sockets, we also have a couple of additional paths for you. One is that you can use up to six 1TB Storage Expansion Cards, that have up to 1,000 MB/s read performance. The other is that you can put an Dual M.2 SSD Holder Module in your Expansion Bay Shell, enabling you to drop in up to an additional 16TB of PCIe Gen4x4 storage. As always, we want to empower you to choose what you want your computer to be, from minimal, functional configurations all the way to extreme overkill!
More from the Framework Laptop 16 Deep Dive blog posts:
Connectors (coming soon)
Keyboard (coming soon)
Expansion Bay System (coming soon)